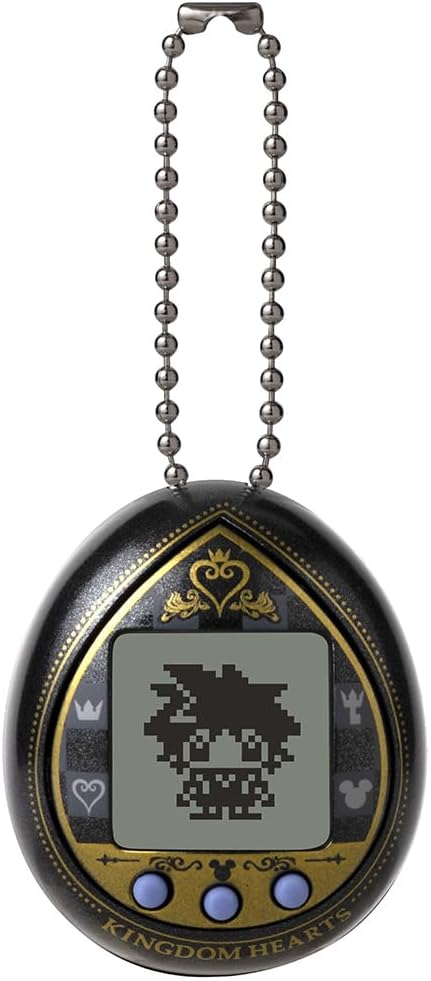 Tamagotchi
Tamagotchi Nano - Kingdom Hearts Dark Version - Virtual Pet
KINGDOM HEARTS TAMAGOTCHI | Join in with the fun experienced around the world since the Tamagotchi Original was released, this time in the exciting world of Kingdom Hearts, with this Tamagotchi Nano Dark Version. Raise your favourite Kingdom Hearts characters as your cyber pets with this 90s toy.

UNLOCK ALL THE CHARACTERS | Starting with the heroic Sora, unlock all 27 characters by varying how you look after, and play with, your digital pet. Rediscover beloved characters from the Kingdom Hearts games like Donald and Goofy as you play with these handheld electronic games for kids and adults.

TAKE CARE OF YOUR CHARACTER | Keep your Tamagotchi pet content by filling up their hungry and happy meters. Feed your character paopo fruit to fill their hungry meter and sea salt ice cream to fill their happy meter. You can also keep your cyber pet happy by playing games with them.

3 FUN MINI GAMES | Within this Tamagotchi hand held games machine there are 3 mini games to play with your electronic pet. Playing each mini game makes your character happier, in addition how well you do and which game you play determines which character your virtual pet will become.

DAILY EVENTS | Throughout the day, animations showing characters and events from the Kingdom Hearts series will appear, but beware, heartless will also materialise to harass your character. If you don't drive the heartless away, your electronic pets will fall into despair and eventually leave.
---
Share this Product
---
More from this collection